Slopes in Siusi allo Sciliar - Skiing holiday in the Sciliar area
A winter vacation on the Sciliar plateau promises pure snow fun on perfectly prepared slopes of different difficulties
Dreamlike slopes with steep, challenging ski-runs for experts and easy practice slopes for beginners and families are located on the nearby Alpe di Siusi. You reach the skiing area, which is part of the Dolomiti Superski, Europe's biggest skiing carousel, from Siusi by cable car.
Siusi allo Sciliar is the ideal location for your skiing holiday in the South Tyrolean Sciliar area.
Winter season 2023/24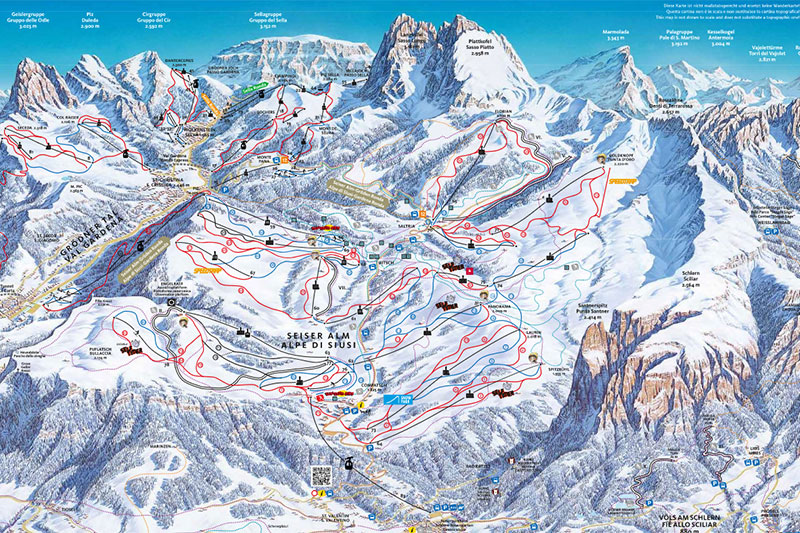 In
the 2023/24 winter season
, the area will be open from 07.12.2023 to 07.04.2024.
The Sellaronda lifts are open on 25.11.2023 and are expected to remain open until 11.04.2024.
In some valleys of the Dolomiti Superski some lifts will presumably be open longer.
Winter offers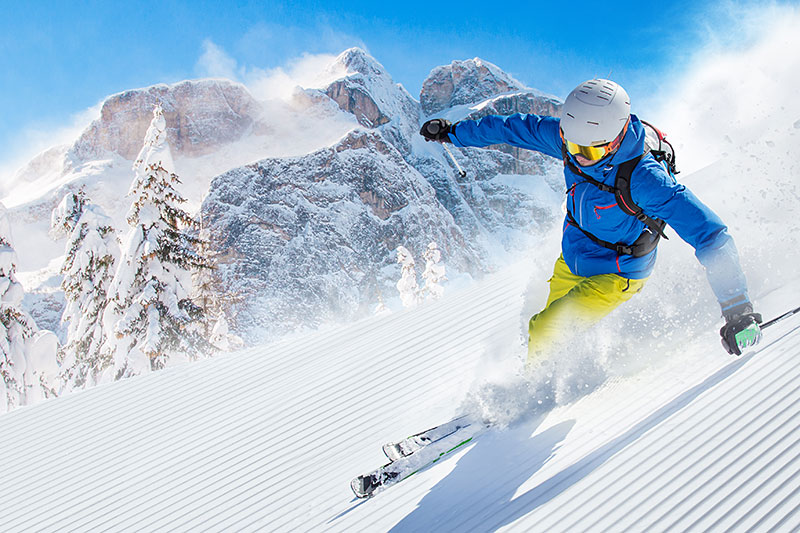 Super Première: 25.11.2023 until 23.12.2023
Dolomiti Springdays: from 18.03.2024 until end of season
Download the Alpe di Siusi's ski map >
Download the Val Gardena's/Alpe di Siusi ski map >
Ortisei - Palmer - Furdenan
| Nr. | Difficulty | Track | State | Season |
| --- | --- | --- | --- | --- |
| | Easy | Connection Furdenan - cable car Ortisei | Closed | 12/03/21 - 04/09/22 |
| | Easy | Furdenan - Palmer | Closed | 12/03/21 - 04/09/22 |
| | Easy | Furdenan 1 | Closed | 12/03/21 - 04/09/22 |
| | Easy | Furdenan 2 | Closed | 12/03/21 - 04/09/22 |
| | Easy | Palmer | Closed | 12/03/21 - 04/09/22 |
| | Easy | Palmer - Furdenan | Closed | 12/03/21 - 04/09/22 |
| | Medium | Pilat | Closed | 12/03/21 - 04/09/22 |
| | Hard | Pilat variant | Closed | 12/03/21 - 04/09/22 |
| 36 | Easy | Cable car Ortisei - Mezdí | Closed | 12/03/21 - 04/09/22 |
Ortisei - Resciesa - Seceda - Col Raiser - S. Cristina
| Nr. | Difficulty | Track | State | Season |
| --- | --- | --- | --- | --- |
| | Hard | Catores | Closed | 12/03/21 - 04/09/22 |
| | Medium | Catores - Fermeda | Closed | 12/03/21 - 04/09/22 |
| | Easy | Col Raiser - Plan Da Tieja | Closed | 12/03/21 - 04/09/22 |
| | Medium | Colraiser | Closed | 12/03/21 - 04/09/22 |
| | Easy | Colraiser - Fermeda | Closed | 12/03/21 - 04/09/22 |
| | Easy | Curona | Closed | 12/03/21 - 04/09/22 |
| | Easy | Fermeda - S.Cristina | Closed | 12/03/21 - 04/09/22 |
| | Medium | Fermeda 1 | Closed | 12/03/21 - |
| | Medium | Fermeda 2 | Closed | 12/03/21 - 04/09/22 |
| | Hard | Gran Pela | Closed | 12/03/21 - 04/09/22 |
| | Medium | La Longia | Closed | 12/03/21 - 04/09/22 |
| | Medium | La Longia - Furnes / Ortisei | Open | 12/03/21 - 04/09/22 |
| | Medium | Mount Fermeda - Seceda topstation | Closed | 12/03/21 - 04/09/22 |
| | Medium | Pitla Pela | Closed | 12/03/21 - 04/09/22 |
| | Medium | Pitla Pela Variant | Closed | 12/03/21 - 04/09/22 |
| | Easy | Plan Da Tieja | Closed | 12/03/21 - 04/09/22 |
| | Medium | Resciesa - Furnes | Closed | 12/03/21 - 04/09/22 |
| | Medium | Seceda - Fermeda | Closed | 12/03/21 - 04/09/22 |
S. Cristina - Monte-Pana - Col Raiser
| Nr. | Difficulty | Track | State | Season |
| --- | --- | --- | --- | --- |
| | Medium | | Closed | 12/05/18 - 04/06/19 |
| | Hard | Alpha | Closed | 12/03/21 - 04/09/22 |
| | Medium | Bravo | Closed | 12/03/21 - 04/09/22 |
| | Medium | Bravo | Closed | 12/03/21 - 04/09/22 |
| | Easy | Cendevaves 1 | Closed | 12/03/21 - 04/09/22 |
| | Easy | Cendevaves 2 | Closed | 12/03/21 - 04/09/22 |
| | Easy | Charly | Closed | 12/03/21 - 04/09/22 |
| | Hard | Connection Alpha - Bravo | Closed | 12/03/21 - 04/09/22 |
| | Easy | Parallel 1 | Closed | 12/03/21 - 04/09/22 |
| | Easy | Parallel 2 | Closed | 12/03/21 - 04/09/22 |
| | Easy | Puntea 1 | Closed | 12/03/21 - 04/09/22 |
| | Easy | Puntea 2 | Closed | 12/03/21 - 04/09/22 |
| | Easy | Tschucky | Closed | 12/03/21 - 04/09/22 |
Selva - Dantercepies
| Nr. | Difficulty | Track | State | Season |
| --- | --- | --- | --- | --- |
| | Easy | Connection Val - Risaccia | Closed | 12/03/21 - 04/09/22 |
| | Easy | Biancaneve | Closed | 12/03/21 - 04/09/22 |
| | Easy | Cadepunt | Closed | 12/03/21 - 04/09/22 |
| | Medium | Campo Freina | Closed | 12/03/21 - 04/09/22 |
| | Hard | Cir | Closed | 12/03/21 - 04/09/22 |
| | Medium | Costabella | Closed | 12/03/21 - 04/09/22 |
| | Medium | Dantercepies | Closed | 12/03/21 - 04/09/22 |
| | Medium | Dantercepies | Closed | 12/03/21 - 04/09/22 |
| | Easy | Dantercepies - Risaccia | Closed | 12/03/21 - 04/09/22 |
| | Easy | Dantercepies - Selva | Closed | 12/03/21 - 04/09/22 |
| | Medium | Dantercepies-connection | Closed | 12/03/21 - 04/09/22 |
| | Medium | Dantercepies-connection | Closed | 12/03/21 - 04/09/22 |
| | Easy | Forest Pist | Closed | 12/03/21 - 04/09/22 |
| | Medium | Frainella | Closed | 12/03/21 - 04/09/22 |
| | Medium | Frara - Val Setus | Closed | 12/03/21 - 04/09/22 |
| | Medium | Frea | Closed | 12/03/21 - 04/09/22 |
| | Hard | La Ria | Closed | 12/03/21 - 04/09/22 |
| | Easy | Larciunei | Closed | 12/03/21 - 04/09/22 |
| | Easy | Mickey Mouse | Closed | 12/03/21 - 04/09/22 |
| | Easy | Nives | Closed | 12/03/21 - 04/09/22 |
| | Medium | Panorama | Closed | 12/03/21 - 04/09/22 |
| | Easy | Risaccia | Closed | 12/03/21 - 04/09/22 |
| | Easy | Risaccia | Closed | 12/03/21 - 04/09/22 |
| | Easy | Val | Closed | 12/03/21 - 04/09/22 |
| | Medium | Val Setus | Closed | 12/03/21 - 04/09/22 |
| | Medium | Val Setus | Closed | 12/03/21 - 04/09/22 |
| | Medium | Val Setus - Cir | Closed | 12/03/21 - 04/09/22 |
| | Medium | Val Setus - Plans | Closed | 12/03/21 - 04/09/22 |
| | Hard | Vallelunga | Closed | 12/03/21 - 04/09/22 |
| | Hard | Wall | Closed | 12/03/21 - 04/09/22 |
S. Cristina - Ciampinoi - Selva
| Nr. | Difficulty | Track | State | Season |
| --- | --- | --- | --- | --- |
| | Hard | Ciampinoi 3 | Closed | 12/03/21 - 04/09/22 |
| | Medium | Ciampinoi 4 | Closed | 12/03/21 - 04/09/22 |
| | Medium | Ciampinoi 5 | Closed | 12/03/21 - 04/09/22 |
| | Medium | Ciampinoi 6 | Closed | 12/03/21 - 04/09/22 |
| | Medium | Ciampinoi 6 - variant | Closed | 12/03/21 - 04/09/22 |
| | Medium | Connection Saslong - Slope B | Closed | 12/03/21 - 04/09/22 |
| | Medium | Piza Pranseies - Ciampinoi | Closed | 12/03/21 - 04/09/22 |
| | Hard | Saslong | Closed | 12/03/21 - 04/09/22 |
| | Medium | Saslong B | Closed | 12/03/21 - 04/09/22 |
| | Medium | Sochers | Closed | 12/03/21 - 04/09/22 |
| | Medium | Sochers 2 | Closed | 12/03/21 - 04/09/22 |
| | Medium | Terza Punta | Closed | 12/03/21 - 04/09/22 |
Selva - Plan de Gralba
| Nr. | Difficulty | Track | State | Season |
| --- | --- | --- | --- | --- |
| | Medium | Bones Braker / Funtanes | Closed | 12/03/21 - 04/09/22 |
| | Medium | Ciampinoi - Piza Pranseies | Closed | 12/03/21 - 04/09/22 |
| | Medium | Comici - Tramans | Closed | 12/03/21 - 04/09/22 |
| | Medium | Comici II | Closed | 12/03/21 - 04/09/22 |
| | Medium | Falk | Closed | 12/03/21 - 04/09/22 |
| | Easy | Fungeia - Campo Freina | Closed | 12/03/21 - 04/09/22 |
| | Easy | Gran Paradiso | Closed | 12/03/21 - 04/09/22 |
| | Easy | Gran Paradiso - Piz Seteur | Closed | 12/03/21 - 04/09/22 |
| | Hard | Paprika | Closed | 12/03/21 - 04/09/22 |
| | Medium | Piz Sella 5 | Closed | 12/03/21 - 04/09/22 |
| | Hard | Piz Sella 5 | Closed | 12/03/21 - 04/09/22 |
| | Easy | Piz Seteur - Città dei Sassi | Closed | 12/03/21 - 04/09/22 |
| | Medium | Piz Seteur - Comici | Closed | 12/03/21 - 04/09/22 |
| | Medium | Plan de Gralba | Closed | 12/03/21 - 04/09/22 |
| | Easy | Pudra | Closed | 12/03/21 - 04/09/22 |
| | Medium | Sassolungo | Closed | 12/03/21 - 04/09/22 |
| | Easy | Schiappen - Sella | Closed | 12/03/21 - 04/09/22 |
| | Easy | Sef | Closed | 12/03/21 - 04/09/22 |
| | Medium | Sef | Closed | 12/03/21 - 04/09/22 |
| | Easy | Sole/Piz Seteur | Closed | 12/03/21 - 04/09/22 |
| | Easy | Sotsaslong | Closed | 12/03/21 - 04/09/22 |
| | Medium | Tramans | Closed | 12/03/21 - 04/09/22 |
Selva - Passo Sella
| Nr. | Difficulty | Track | State | Season |
| --- | --- | --- | --- | --- |
| | Easy | Città dei Sassi | Closed | 12/03/21 - 04/09/22 |
| | Easy | Connection Gran Paradiso - Città dei Sassi | Closed | 12/03/21 - 04/09/22 |
| | Medium | Daniela | Closed | 12/03/21 - 04/09/22 |
| | Easy | Gabia | Closed | 12/03/21 - 04/09/22 |
| | Medium | Martinelli | Closed | 12/03/21 - 04/09/22 |
| | Medium | Passo Sella | Closed | 12/03/21 - 04/09/22 |
| | Easy | Sas Betit | Closed | 12/03/21 - 04/09/22 |
| | Medium | Sasso Levante | Closed | 12/03/21 - 04/09/22 |
| 12 | Medium | Rodella | Closed | 12/03/21 - 04/09/22 |
| 13 | Medium | Cinque Dita | Closed | 12/03/21 - 04/09/22 |
| 13 | Medium | Collegamento Seceda - Alpe di Siusi variant | Open | 12/03/21 - 04/09/22 |
| 13 | Medium | Connection Ciampinoi - Costabella | Closed | 12/03/21 - 04/09/22 |
| 13 | Medium | Connection Freina - Costabella | Closed | 12/03/21 - 04/09/22 |
| 13 | Medium | Connection Saslong - Sochers | Closed | 12/03/21 - 04/09/22 |
| 13 | Medium | Connection Seceda - Alpe di Siusi | Closed | 12/03/21 - 04/09/22 |
| 13 | Medium | Paprika - Comici1 | Closed | 12/03/21 - 04/09/22 |
| 13 | Medium | Piz Seteur - Gran Paradiso | Closed | 12/03/21 - 04/09/22 |
| 14 | Medium | Salei | Closed | 12/03/21 - 04/09/22 |
| 15 | Medium | Grohmann | Closed | 12/03/21 - 04/09/22 |
Alpe di Siusi
| Nr. | Difficulty | Track | State | Season |
| --- | --- | --- | --- | --- |
| | Medium | | Closed | 12/05/17 - 04/07/18 |
| | Easy | Connection Paradiso - Bamby | Closed | 12/03/21 - 04/09/22 |
| | Medium | Mezdí - Leo Demetz | Closed | 12/03/21 - 04/09/22 |
| | Medium | Speedtrap | Closed | 12/03/21 - 04/09/22 |
| 1 | Medium | Spitzbühl 1 | Closed | 12/03/21 - 04/09/22 |
| 2 | Medium | Spitzbühl 2 | Closed | 12/03/21 - 04/09/22 |
| 3 | Medium | Spitzbühl - Laurin | Open | 12/03/21 - 04/09/22 |
| 4 | Medium | Spitzbühl 3 | Closed | 12/03/21 - 04/09/22 |
| 5 | Medium | Laurin Valley - Spitzbühl | Closed | 12/03/21 - 04/09/22 |
| 6 | Medium | Laurin Mountain - Spitzbühl | Closed | 12/03/21 - 04/09/22 |
| 7 | Easy | Laurin | Closed | 12/03/21 - 04/09/22 |
| 8 | Medium | Laurin 2 | Closed | 12/03/21 - 04/09/22 |
| 9 | Easy | Laurin - Panorama | Closed | 12/03/21 - 04/09/22 |
| 10 | Easy | Laurin - Paradiso | Closed | 12/03/21 - 04/09/22 |
| 13 | Medium | Panorama 13 | Closed | 12/03/21 - 04/09/22 |
| 14 | Easy | Panorama 14 | Closed | 12/03/21 - 04/09/22 |
| 15 | Medium | Panorama - Laurin | Closed | 12/03/21 - 04/09/22 |
| 16 | Medium | Panorama - Paradiso | Closed | 12/03/21 - 04/09/22 |
| 17 | Medium | Paradiso | Closed | 12/03/21 - 04/09/22 |
| 19 | Medium | Punta d'Oro 1 | Closed | 12/03/21 - 04/09/22 |
| 20 | Medium | Punta d'Oro 2 | Closed | 12/03/21 - 04/09/22 |
| 26 | Medium | Punta d`Oro - Floralpina | Closed | 12/03/21 - 04/09/22 |
| 27 | Easy | Floralpina 27 | Closed | 12/03/21 - 04/09/22 |
| 28 | Medium | Floralpina 28 | Closed | 12/03/21 - 04/09/22 |
| 29 | Medium | Floralpina - Florian | Closed | 12/03/21 - 04/09/22 |
| 30 | Medium | Florian 1 | Closed | 12/03/21 - 04/09/22 |
| 31 | Medium | Floralpina - Punta d`Oro | Closed | 12/03/21 - 04/09/22 |
| 33 | Medium | Florian 2 | Closed | 12/03/21 - 04/09/22 |
| 34 | Medium | Florian - Zallinger - Floralpina | Closed | 12/03/21 - 04/09/22 |
| 36 | Easy | Cable car Ortisei - Mezdí | Closed | 12/03/21 - 04/09/22 |
| 38 | Easy | Ludy | Closed | 12/03/21 - 04/09/22 |
| 40 | Medium | Mezdí | Closed | 12/03/21 - 04/09/22 |
| 43 | Medium | Mezdí - Sanon 1 | Closed | 12/03/21 - 04/09/22 |
| 43b | Medium | Mezdí - Sanon 2 | Closed | 12/03/21 - 04/09/22 |
| 44 | Medium | Leo Demetz - Mezdí | Closed | 12/03/21 - 04/09/22 |
| 45 | Medium | Leo Demetz - Sanon | Closed | 12/03/21 - 04/09/22 |
| 46 | Medium | Monte Piz - Icaro - Leo Demetz | Closed | 12/03/21 - 04/09/22 |
| 47 | Medium | Leo Demetz | Closed | 12/03/21 - 04/09/22 |
| 48 | Easy | Al Sole | Closed | 12/03/21 - 04/09/22 |
| 48 | Easy | Al Sole - Mezdí | Closed | 12/03/21 - 04/09/22 |
| 49 | Medium | Leo Demetz - Monte Piz | Closed | 12/03/21 - 04/09/22 |
| 50 | Easy | Sanon 2 | Closed | 12/03/21 - 04/09/22 |
| 51 | Medium | Sanon 1 | Closed | 12/03/21 - 04/09/22 |
| 55 | Easy | Monte Piz | Closed | 12/03/21 - 04/09/22 |
| 57 | Medium | Steger | Closed | 12/03/21 - 04/09/22 |
| 58 | Medium | Steger - Panorama | Closed | 12/03/21 - 04/09/22 |
| 59 | Medium | Bamby - Steger Dellai | Closed | 12/03/21 - 04/09/22 |
| 60 | Easy | Bamby | Closed | 12/03/21 - 04/09/22 |
| 65 | Medium | Bamby - Panorama | Closed | 12/03/21 - 04/09/22 |
| 69 | Easy | Euro 69 | Closed | 12/03/21 - 04/09/22 |
| 70 | Medium | Euro 70 | Closed | 12/03/21 - 04/09/22 |
| 73 | Easy | Eurotel 1 | Closed | 12/03/21 - 04/09/22 |
| 74 | Easy | 74 - Skischool - Eurotel 1 - Panorama | Open | 12/03/21 - 04/09/22 |
| 75 | Medium | Euro - Laurin - Spitzbühl | Closed | 12/03/21 - 04/09/22 |
| 75 | Medium | Euro - Laurin - Spitzbühl | Closed | 12/03/21 - 04/09/22 |
| 76 | Medium | Alpin | Closed | 12/03/21 - 04/09/22 |
| 77 | Hard | Race | Closed | 12/03/21 - 04/09/22 |
| 78 | Hard | Freccia | Closed | 12/03/21 - 04/09/22 |
| 79 | Medium | Bullaccia - Strega | Closed | 12/03/21 - 04/09/22 |
| 80 | Easy | Strega 1 | Closed | 12/03/21 - 04/09/22 |
| 83 | Medium | Strega 2 | Closed | 12/03/21 - 04/09/22 |
Image gallery: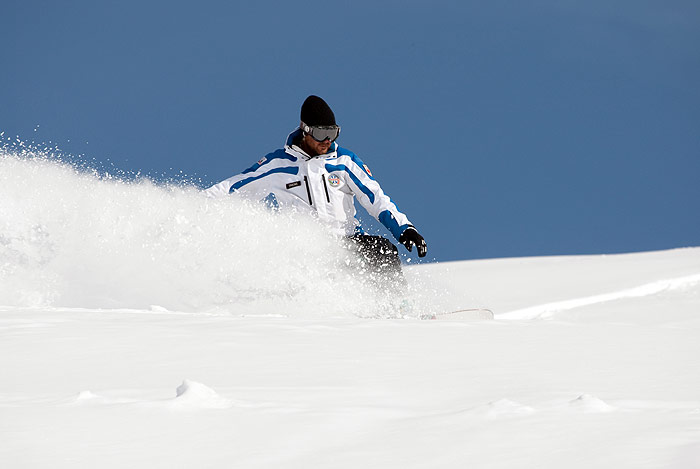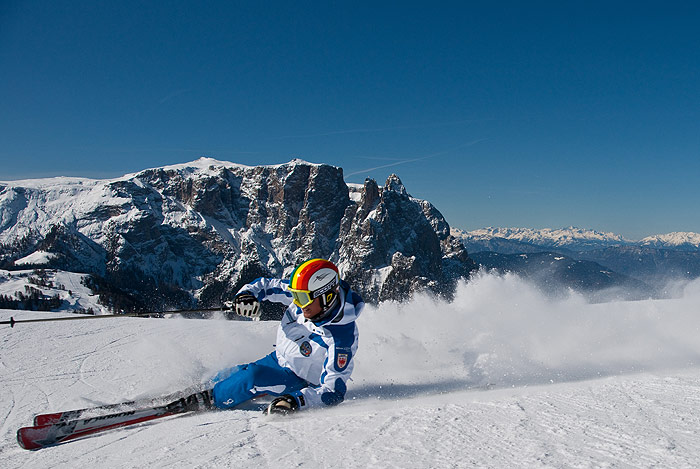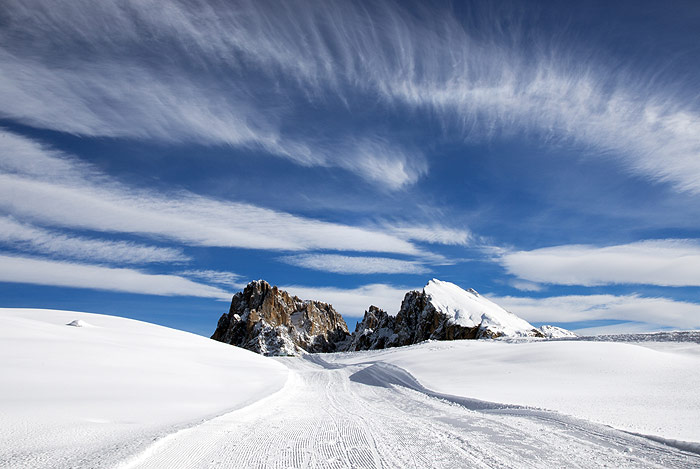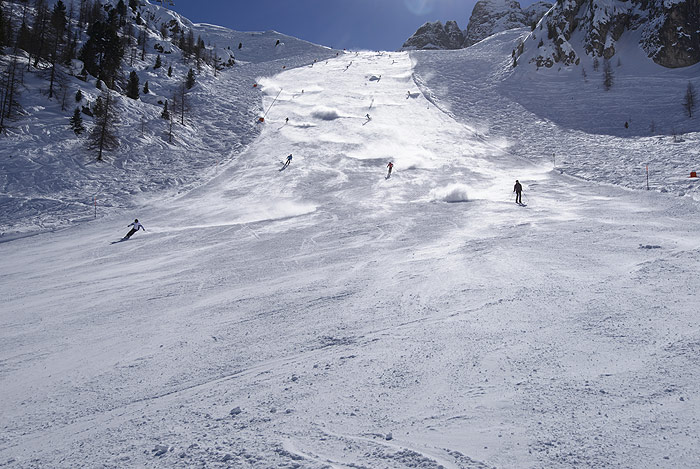 Events:
02/06/2023 - 04/06/2023
Oswald von Wolkenstein Ride
16/06/2023 - 17/06/2023
Open Air of the Kastelruther Spatzen
02/07/2023
Alpe di Siusi Half Marathon
show all >
Weather forecast:
wednesday

Thursday

friday

11°

/

24°

10°

/

25°

8°

/

29°
Accommodations in Siusi allo Sciliar:
Request availability
Accommodations on the ski slope
Accommodations with near the lift facilities
Accommodations with Ski rental